Transportation Projects - Safety
Safety has always been the top priority at DALHAM CO, from the protection of your product to the performance of our drivers and fleet. Both our driver qualification standards and equipment inspection standards are far above what is required by the Federal Motor Carrier Safety Regulations. We are convinced that excellent service begins with excellent drivers and excellent equipment.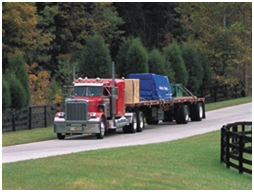 We understand that strict compliance with speed limits is not only good for safety, but it is also good for the environment. In addition, strict adherence to hours of service regulations prevents your cargo from being damaged by a fatigued driver and promotes highway safety for everyone.
The fact that we understand our commercial and moral obligation to keep our highways safe is underscored by the numerous fleet safety awards we have received from a variety of organizations throughout our history.
Our safety culture demands no compromises or shortcuts. Through precaution and awareness, we proudly maintain one of the lowest claims and accident rates in the industry.
•
Lebanon Trucking Association Fleet Safety Award
•
1st Place National Truck Safety Contest Safe Fleet Award
•
Fleet Safety Improvement Award (3 Times)
•
National Fleet Safety Award, 1st Place
•
National Fleet Safety Award, 2nd Place
•
Kuwait Fleet Safety Contest Winner