Water Projects - Basrah Sewage Pumping Stations Restoration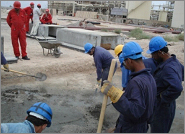 Contract Title:
Basrah Sewage Pumping Stations Restoration
Client:
BASRA GOVERNATE
Contractor:
ALDALHAM Co., IRAQ
Project Begin Date:
4/9/2004
Project End Date:
1/3/2005
Scope of Works:
JIMIYAT District of Basrah City, locating within Sector 4 of Basrah Sewage Project, suffering as other districts from problems and blockages in Sewage Stations leading into flooding of most residential areas. Sewage water resembles a source for pollution and health upset in areas where such problems exist.
The scope of work is targeted toward complete refurbishment of 5 sewage substations (10, 11, 12, 13 & 15) locate within District of Jimiyat of Basrah City.
Works are enclosure of Civil, Mechanical and Electrical works for the 5 substations. A detailed lectures and highly importance have been given to Safety procedures and plans within this project due to the high risk factors existed through Entrance of Confined Spaces and existence of dangerous gases.