Water Projects - Supply & Installation of Low Lift Pumps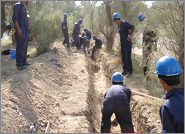 Contract Title:
Supply & Installation of Low Lift Pumps
Client:
CPA South
Contractor:
ALDALHAM Co., IRAQ
Project Begin Date:
3/2004
Project End Date:
2/2005
Scope of Works:
Basrah city depends mainly on water supply from Sweet Water Canal running from Nasiriyah through the desert to R-Zero Compound in Basrah, then the water distributed to different stations around Basrah City. Since there are many problems and difficulties existed in the canal recently as well as piping system damages, it was highly needed to bring to life the old system that supplying water to Basrah City which is depending mainly on injection of water from Shatt Al-Arab River to the stations and the to the city through a high lifting pumps.
The contract covered 11 stations located along Shatt Al-Arab River, these stations are: Al-Rabbat, Jubaila 1, Jubaila 2, Bradiya 1, Bradiya 2, Garma 1, Garma 2, Hartha, Muwahad 1, Muwahad 2 and R-Zero. The main works accomplished for each station could be briefly detailed as follows:-
1- Repairing of the existed low lift pumps and the electrical panels.
2- Supply of new pumps, electrical panels and cables Throughout the work, many additional works appeared and accomplished, among are Scaffold for pipes over the river, Strainers, Valves, New Pipes ... etc.