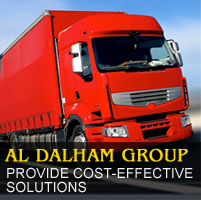 Al DALHAM Transportation -Maintenance
DALHAM maintenance facilities in both Iraq and Kuwait have an outstanding reputation for customer service, quality workmanship, and high maintenance standards. This is reflected not only in the efficient operation of our own fleet, but in the committed business of foreign fleet customers.
Whether require emergency road call services, body work, safety inspections, or simply quality coach servicing, DALHAM provides it all with our commitment to quality and customer satisfaction.
DALHAM provides a wide array of services, including:
•
Factory trained mechanics: MCI, Prevost
•
Full A/C service utilizing latest freon recovery system
•
Glass Installation
•
SGI Certified for safety inspections
•
Road calls service throughout DALHAM CO
•
Tire balancing
•
Parts Department
•
Fuel at competitive rates
•
Exterior cleaning service
•
Interior cleaning service
•
Full deep cleaning service
•
Washroom service
•
Indoor storage available